The 18" (455mm) PLUGR is ideal for residential or commercial aeration. No add-on weights are required and reciprocating cam-driven tines propel the unit forward and drive cores up to 2.75" (70mm) deep even in diffucult soil conditions, offering higher quality aeration than traditional drum style units. No-lift turning offers a significant reduction in fatigue while operating and a new ergonomic handle is Iso mounted for reduced vibration. A longer belt span improves belt de-clutching, increasing belt life.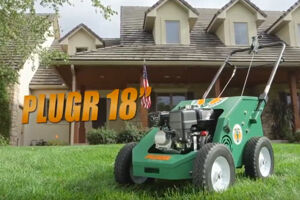 18inch (455mm) PL1801 Aerator IDEAL FOR RESIDENTIAL AERATION
The PL1801 aerator is ideal for relieving compaction, improving drainage, reducing thatch and improving oxygen to the roots of your lawn which results in stronger and healthier turf. The 18" (455mm) PLUGR is ideal for smaller property aeration and narrow areas. Enquire now.
COOPS MOWING
Coops Mowing is a proud owner of a PL1801 Aerator as shown in the Instagram posting.
Coops Mowing & Growing Turf Management
is passionate about turf and sport turf care and has a Qualified Certificate III Sports Turf management. Please view professional turf contractors Instagram accounts of the results of their great work in utilising the PL1801
13th Beach Gardening Services
13th Beach Gardening Services provides lawn care, cylinder mowing, lawn renovations, fertilising & spraying, irrigation systems, gardening & more! They utilise the PL1801 Aerator to provide outstanding results for their customers.You are encouraged to explore their Instagram feed to see the PL1801 at work .Check out the 13th Beach Gardening Services Instagram link.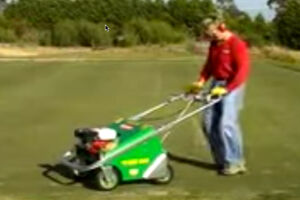 Cam Shaft Method Of Aeration Proven Over Time
Red Roo has been associated with the "Cam Shaft" design for aeration over ten years. We understand that aeration of compacted soil and drainage are vital to maintaining your investment. The "Cam Shaft" system punches into the ground and delivers a much better result that the common drum style aerator. This historical video demonstrates our determination at choosing the most effective method for achieving professional aeration results.