The PL2501represents the best combination of productivity, operator comfort, superior aeration results, variable hole density with remarkably low maintenance in its class. This unit offers an estimated 30+ percent greater return vs.traditional drum aerators. Best in class controls offer same intuitive, variable speed fingertip hydro-drive innovation. Patent pending EZ Drop™ tine system has a one-step tine engagement lever from the handle that permits the operator to pass over obstacles in the aeration path for uninterrupted aeration.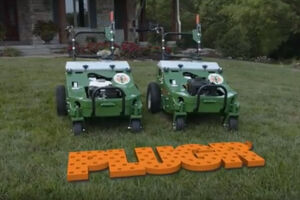 25inch (635mm) Width Hydro-Drive Aerator Ideal For Commercial Applications
The PL2501 aerator incorporates reciprocating technology and a host of new features. The PL2501 delivers up to 42,550sq.ft (3953sq/m) of aeration per hour in a single pass with a core depth to 2.75"(70mm). This unit provides thirty percent more increased productivity, allows for ease of operation and simple maintenance. It is unsurpassed in the turf care industry especially when compared to less efficient drum style aerators.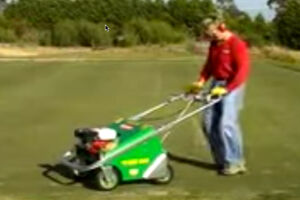 Cam Shaft Method Of Aeration Proven Over Time
Red Roo has been associated with the "Cam Shaft" design for aeration over ten years. We understand that aeration of compacted soil and drainage are vital to maintaining your investment. The "Cam Shaft" system punches into the ground and delivers a much better result that the common drum style aerator. This historical video demonstrates our determination at choosing the most effective method for achieving professional aeration results.