Red Roo 1290 Wood Chipper is a ideal for the entry level arborist, lawn and garden contractor, golf course, large acreage owner, or rental company. The 1290 features a 37hp Briggs and Stratton Vanguard EFI engine. The Red Roo 1290 uses an exclusive sliding carriage to engage the chipper disk and eliminates the need for a centrifugal clutch or direct drive from the engine to the disc. A massive 300mm (12") x 230mm (9") feed opening allows for quick processing of branches with a diameter up to 230mm (9").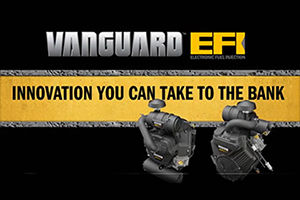 Innovative 37HP Engine with Electronic Fuel Injection (EFI)
The Red Roo 1290 Wood Chipper now features a 37HP Engine with Electronic Fuel Injection (EFI). Innovation isn't about making a machine different. It is about making it better, easier, faster, more efficient and practical. With the Red Roo 1290 Wood Chipper with EFI the customer now has a significantly enhanced user experience which is engineered to work on the most challenging applications.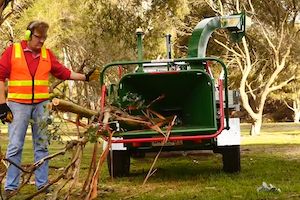 Consummate Balance of Capability and Power
Achieve high productivity with the Red Roo 1290 Wood Chipper which now features a 37HP Engine with Electronic Fuel Injection (EFI). The machine provides the perfect balance of capability and power for crews doing a variety of trimming operations. The 1290 features high-end design elements like concealed wiring, integrated manifold hydraulics with electronic control and sliding engine disk engagement.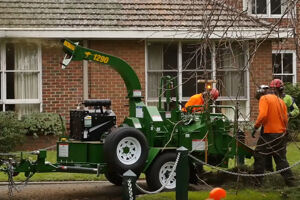 Bushfire Preparation
The video demonstrates the capabilities of the Red Roo 1290 Wood Chipper as a tool for preparing for bushfires by clearing vegetation. If you live in a rural area you may not need a permit to clear trees from around your home. Reducing the vegetation around your home is one of the most important things you can do to keep your property safe in a bushfire. Depending on where you live, the 10/30 rule and the 10/50 rule might apply. Check with your local council.
Bushfire Preventation
The Red Roo 1290 Wood Chipper can be an essential tool in assisting property owners to prevent the extent of damage from bushfires. The video illustrates the 1290 being used in an application to clear an area after a tree has been cut down. Clearing up your property prior to the bushfire season has never been an easy task. The 1290 is just the product to assist you in preparing for the bushfire season.
Hire Wood Chipper in Ballarat and Western District
Red Roo provides an unqualified recommendation for customers wishing to hire a Red Roo 1290 Wood Chipper from Bylsma Hire located in Ballarat. Red Roo and Bylsma Hire have a relationship which extends over 35 years and has seen Bylsma Hire become one of our most important Hire and Rental partners. We encourage you to visit their website at
Bylsma Hire
for a more comprehensive perspective of their capabilities and hire and rental products.
Future Tree Health Tree Consultant
Future Tree Health is a modern arboricultural consultancy service, providing advice for trees, gardens and landscapes.Future Tree Health provides tree consultancy service, covering Geelong, Bellarine Peninsula, The Surf Coast, Melbourne and surrounding areas. They are passionate about healthy trees and the incredible benefits they bring to our communities and they are a long term user of the Red Roo 1290 Wood Chipper.
Stones in Chipper
These images below demonstrate the incorrect use of the 1290 whereby a customer completely ruined the chipper blades by feeding material contaminated with stones. This practise must be avoided at all costs.