The Red Roo 1712 Drum Woodchipper is powered by a 74hp Kohler T4F turbo diesel engine. The Red Roo 1712 wood chipper provides an ideal balance of capacity, economy, and portability. The Red Roo Model 1712 incorporates many design features to make it a highly productive (305mm)12inch capacity chipper. The 1219mm (48inch) by 711mm (28inch) infeed opening allows the 1712 to efficiently process the tops of trees with little or no trimming. The oversize feed wheel accept the wood with minimal wrapping or blockage. The large 32-cubic-inch displacement hydraulic feed motor provide the power to pull and collapse limbs and tops. This model woochipper is ideal for anyone already in the industy or considing becoming part of it.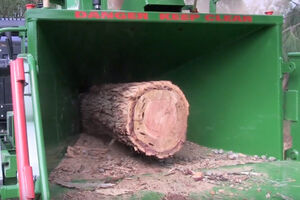 1712 Drum Woodchipper Demonstration
This video demonstrates the operating capability of the Red Roo 1712 Drum Woodchipper. With the advent of adverse weather conditions like storms, floods and bushfires comes the need to reduce the risk to property and people and to quickly restore services and living conditions after the impact of these extreme weather events. The Red Roo 1712 Drum Woodchipper has the capability to provide assistance in these circumstances when deployed by Arborists and emergency recovery teams.