The Red Roo Hurricane RS shares a patented turret bearing design with the Red Roo Hurricane TRX giving it 360-degree continuous rotation and massive cutting dimensions. The Red Roo Hurricane RS is capable of cutting a full 5.5m (18ft) width, 1.3m (53inch) high and over 0.6m(2ft) deep. A Caterpillar track system is utilized on the Hurricane RS. This proven Caterpillar track undercarriage minimizes ground pressure and provides plenty of both climbing power and speed with its two-speed design. The rubber tracks used on the Hurricane RS are designed to help minimize turf damage. The proportional wireless remote control, included as standard on every Hurricane RS, gives the operator precise control from up to 457m (1,500ft). This powerful remote allows the operator to control the machine from auxiliary equipment. This remote features feather touch controls that allow the operator to control the speed of every function right from his fingertips. This remote minimizes operator fatigue, maximizing operator efficiency over a long day. The Red Roo Hurricane RS delivers high production and is ideal for property developers and contractors.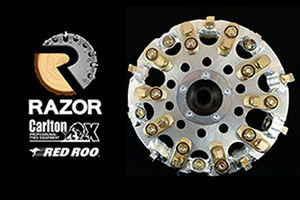 Razor Cutting (Best In Class)
This video introduces the Razor Cutting System which is Best in Class. The Carlton Razor Stump Cutting Razor System was designed by JP Carlton who have over 70 years of stump grinding experience. The Razor Cutting head has a higher cutting efficiency,longer tool life and reduced maintenance. The Razor Cutting System is a very effective and efficient stump removal tool
ACE TREES REMOVES 150 STUMPS

The Ace Tree Stump crew from Ace Tree Management removed 150 tree stumps in two days with Red Roo's biggest Stump Grinder - The Hurricane. Ace Tree Management is one of Victoria's longest established Arborist tree service companies and is based in Kilsyth, Victoria. Please visit their Instagram site to see the Hurricane in action and read the impressive comments made about the Hurricane by the subscribers to Ace Trees Management Instagram.