WIRELESS REMOTE CONTROLLED STUMP GRINDERS - THE FUTURE OF THE INDUSTRY
In 1898 Nick Tesla demonstrated a radio-controlled boat which he dubbed "teleautomation".
Nearly a century later JP Carlton, located in Spartanburg, South Carolina pioneered the first wired (tethered) remote controlled stumpgrinder. It was only a few years later that this ground breaking technology was developed into the first wireless remote controlled stumpgrinder. With over twenty-five years experience developing wireless remote stumpgrinders JP Carlton is the industry leader in this technology.
Would you consider purchasing a TV without a remote control?
DIGITAL TRANSMISSION INTERFERENCE FREE
Our rugged, portable, long range, programmable, radio remote transmitter and receiver incorporates vibration, temperature, and humidity tolerant electronics that operate at 2.4 gigahertz. The T151 transmitter (radio remote) uses four AA batteries and has a range of approximately 100m. Each T151 transmitter uses a unique ID code to ensure that no two systems will conflict at a job site. This trusted wireless uses Frequency Hopping Spread Spectrum (FHSS) technology that has proven to be extremely reliable under heavy interference and in noisy high voltage environments. This FHSS device concentrates its full power into a very narrow signal that randomly hops from frequency to frequency within a designated band. This transmission pattern, along with the CRC-16 error checking techniques, enables signals to overcome interference that commonly affects licensed radios.
Features of this wireless system include:
• 100M Range at 2.4 Ghz • Plug & Play Installation
• Resilient To Impact And Shock
• E-Stop (Emergency Stop Will Turn Off Engine)
• FCC, ISC, CE Approved
• Rated To 160 Hours Of Continuous Use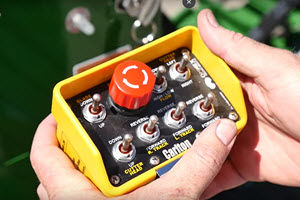 HOW TO SYNC THE WIRELESS REMOTE VIDEO
This video demonstrates how to sync an OMNEX remote with either a Red Roo or JP Carlton wireless remote control stump grinder.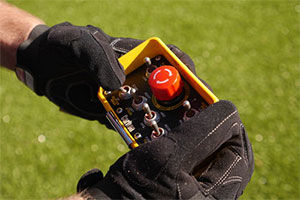 HOW TO SYNC THE WIRELESS REMOTE INSTRUCTIONS
The procedure below explains how to sync an OMNEX remote with either a Red Roo or JP Carlton wireless remote control stump grinder.
Step 1. Turning The Radio On
Step 2 .Press the E-Stop (emergency stop button) all the way in
Step 3. Toggle any switch on the remote
Step 4. Twist and release the E-Stop
" STAY OUT OF THE DIRT, DUST AND DEBRIS"