The Red Roo SHP400 stump grinder's unique design pivots over the center line of the wheels allowing the grinding head to sweep easily across the stump while the wheel base remains stationary. The SHP400 is self propelled and features independent wheel drive. Operator controls may be set to either side to allow increased visibility. This unit is ideal in tight access or difficult access situations. Powered by a Kohler Command EFI engine this hand held stumpgrinder is a market leader in both its design and performance.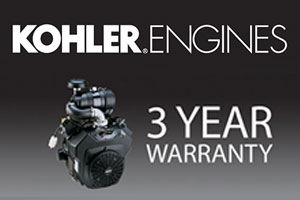 Kohler Command Pro EFI Engine
The Kohler Command Pro EFI Engine has no choke and starts like your car. Just turn the key and go. Also it has no carburettor which means less downtime. Advanced sensor technology allows the engine to optimise performance by adapting to operating conditions and the EFI Diagnostic Software provides instant data on engine performance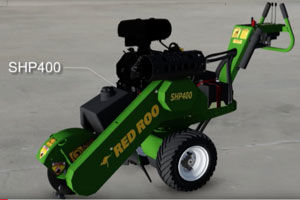 SHP400 Pivot Center Stump Grinder
The features of the Red Roo SHP400 can be best explained by this video which provides a three dimensional rotational view of the benefits of this remarkable stumpgrinding machine. Powered by a 27HP EFI Kohler Command V Twin Engine, this tight access machine is only 740mm(29") wide.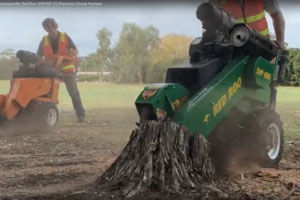 COMPETITIVE DEMONSTRATION
This video demonstrates the performance of the Red Roo SHP400 against our closest competitor. Our objective is to show the design, and attention to detail that Red Roo has engineered into this product. The SHP400 has proven itself over fifteen years to be a solid performer in difficult, or tight access situations.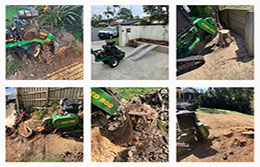 GOLD COAST STUMP GRINDERS

Gold Coast Stump Grinders provide a stump removal service from Byron Bay in New South Wales to the Northern Gold Coast in Queensland. Gold Coast Stump Grinders show a number of examples of the use of the Red Roo SHP400 on their Instagram page. Please visit their Instagram site for an amazing set of images for the SHP400 in action which demonstrate its stump grinding capability plus its ability to operate in confined spaces.