The Red Roo HT712 micro trencher features an all new wheel drive propulsion system. The HT712 utilizes a load sensing hydraulic valve to adjust the trenching wheel speed according to the load on the digging chain. When the load on the digging chain increases, the sensing valve sends less oil to the wheel drive motor and the wheel speed will automatically slow down. When the load on the digging chain decreases, the sensing valve sends more oil to the wheel drive motor and the wheel drive speed will automatically increase.This keeps a constant load on the engine regardless of differing soil conditions or the depth of cut. The automatic adjustment to the wheel speed also eliminates the responsibility on the operator to constantly adjust their wheel speed. Nothing could be easier for the novice operator. Trenchers can become one of your leading revenue sources. With a unique design that provides limited need for maintenance and repair, this trencher will keep going out into the field time and again without sitting in the shop waiting for repair. Ideal for sprinkler systems, dog fences, electrical lines and other shallow applications, this trencher is made for the do-it-yourselfer. Keep your customers coming back to the trencher they can be comfortable operating!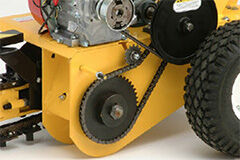 Competitor
An illustration of the construction and design of a competitor's machine is shown below.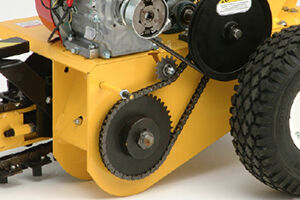 Competitor Trencher
The machine in the image and video above is mechanically operated, meaning that when the engine is cranked, it will engage a centrifugal clutch that drives a belt and a sprocket. The majority of hand held earth engaging machinery is now operated hydraulically, delivering ease of use, safer, and more effective results. This machine is not self-propelled, the operator must physically drag the machine backwards.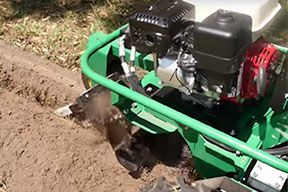 HT712 The Recommended Trencher
The HT712 Hydraulic Trencher is the recommended trencher for the installation of sprinkler systems and electrical installations. The free wheeling hubs, hydraulic drive and forwards and backwards chain rotation are just some of the features that illustrate why the HT712 provides superior performance to its competitors