The Red Roo 1624 STK Mini Track Trencher has may of the same key features as our larger track trenchers. The innovative track system and compact frame design provide both stability and maneuverability. A hydraulic oil cooler with incorporated fan keeps the oil temperatures regulated. Electric start is standard on all models. Efficient and functional, the Red Roo 1624 STK Mini Track Trencher has proven to be the market leader in then midsize pedistrian track trencher market..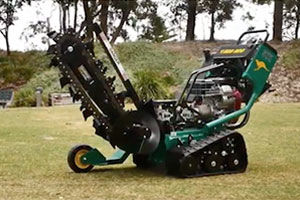 Voted Number One Track Trencher
The Red Roo ST1624 Track Trencher is low maintenance and reliable in the most difficult conditions. The effortless steering, tracks, and size of this trencher make the operators job simple and keeps customer satisfaction high. Components are protected yet easily accessed and maintenance costs are minimal.
Read Irrigation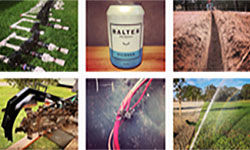 The Red Roo 1624 STK Mini Track Trencher has been voted best midsize track trencher because of professional contractors like Read Irrigation. Read Irrigation is an excellent example of how the 1624 STK Mini Track Tencher performs in an irrigation application. Instagram postings by Read Irrigation shown on the left illustrate the benefits experienced from the effective and efficient design process of this machine. For more details on Read Irrigation please click on Read Irrigation
Independent Floating Track System
The independent floating track system utilizes independent undercarriage idlers that move in response to the terrain. This design keeps a significant portion of the track in contact with the terrain at all times, reducing ground pressure and increasing traction. The movement of the middle and rear idlers act as suspension and smooth the overall movement of the trencher. This provides for a more fluid operation than the traditional track trenchers when working in rough and uneven conditions.