The SP7015 is the best value stumpgrinder on the market today. Powered by a 65hp Kubota Liquid Cooled Turbo Diesel engine, this unit is available in 4WD, and has the quickest ground speed of any comparable unit in its class. The SP7015 has a cutting width of 1750mm (70") and a depth of 380mm (15"). This stumpgrinder is available with a tethered or wireless remote control option. Delivered standard with Climb Pro tires this unit is ideal on the lawn and turf. Equipped with a heavy duty Dana 44 rear axle this unit provides plenty of torque to get you to the stump. This machine is available with either the Red Tooth or RAZOR cutting system.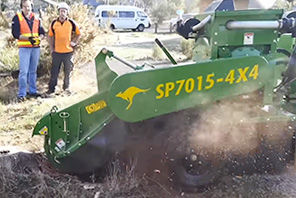 Remote Control 4 Wheel Drive
This video features the delivery of the SP7015-4 Wheel Drive to the Macedon Ranges in Victoria, Australia and in particular the use of the wireless remote operating capability of the SP7015-4WD which facilitates the operator having an unimpeded and safe view of the stump grinding process.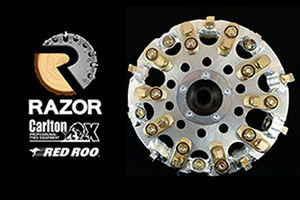 Razor Cutting (Best In Class)
This video introduces the Razor Cutting System which is Best in Class. The Carlton Razor Stump Cutting Razor System was designed by JP Carlton who have over 70 years of Stump Grinding experience. The Razor Cutting head has a higher cutting efficiency,longer tool life and reduced maintenance. The Razor Cutting System is a very effective and efficient stump removal tool