The SP7015TRX track machine is powered by a 65hp Kubota Turbo Diesel and features a wireless remote, 4 speed ground drive system, traction control. and expanding tracks. This units track system hydraulically retracts from 890mm (35") to 1220mm (48") so that the operator can manoeuvre easily tight situations like a backyard gate. The four speed track system allows the operator to choose between high speed travel modes and high torque cutting modes at the flip of a switch. The SP7015TRX has the quickest ground speed (5.6kph) of any track machine on the market today in its class. Choose between the Red Tooth or RAZOR cutting system. Stay out of the DIRT, DUST, and DEBRI with the Wireless Remote, this 2.4GH digital, interference free radio come standard with each machine.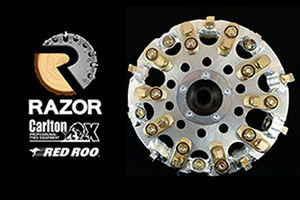 Razor Cutting (Best In Class)
This video introduces the Razor Cutting System which is Best in Class. The Carlton Razor Stump Cutting Razor System was designed by JP Carlton who have over 70 years of stump grinding experience. The Razor Cutting head has a higher cutting efficiency,longer tool life and reduced maintenance. The Razor Cutting System is a very effective and efficient stump removal tool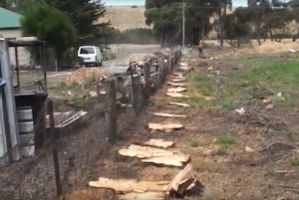 63 Stumps in One Day
Yarra Valley Tree Services demonstrates the grinding power and high performance capability of the Red Roo SP7015TRX by grinding 63 Stumps in one day in Sunbury Victoria. These are the applications where the SP7015TRX illustrates it is in a "Class of its Own" and the Wireless Remote provides a safe and efficient tool for the operator.
JUST STUMPS TREE STUMP REMOVAL

Just Stumps tree stump removal specialises in the stump removal and grinding of tree stumps for both domestic residential gardens and commercial purposes and their Instagram site demonstrates the applications and verstility of the Red Roo SP7015TRX. You are encouraged to explore their Instagram feed.