BEST SELLING SMALL TRENCHER IN AUSTRALIA
The Red Roo HT912 is an all hydraulic compact trencher that is perfect for the installation of irrigation, sprinkler and electrical systems. It is powered by a 9hp Honda OHV engine. The HT912 is available with 300mm (12"), 450mm (18") or 600mm (24") boom.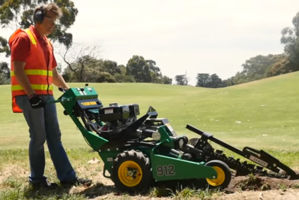 Ideal for Irrigation, Sprinkler and Electrical Systems
This video demonstrates the features of the Red Roo HT912 hydraulic compact trencher in operation on a golf course which is an ideal envoronment. All hydraulic operation provides greater reliability and less maintenance. The HT912 is self propelled, compact and light weight. The revolutionary new pivot system keeps the pivot bushing out of the dirt and the operator presence control stops the wheels and chain immediately.