116 HP Kubota T4F Turbo Charged Diesel
The Red Roo SP8018TRX is unmatched in power and performance. This amazing stumpgrinder utilizes a T4F Turbo Charged diesel engine to give commercial users the power they need. The standard wireless remote control keeps the operator out of the dirt, dust and debris. This unit comes standard with a genuine Caterpillar undercarrige. The SP8018TRX is equipped with a four speed ground drive capability up to 3.5mph, making it the most efficient ground speed of any unit in its class. The RAZOR cutting system and backfill blade are standard features. The SP8018TRX is ideal for contractors, property developers, municipalities, or serious arborists.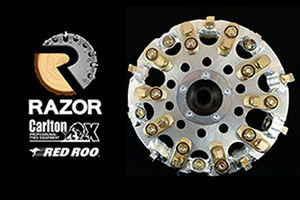 Razor Cutting (Best In Class)
This video introduces the Razor Cutting System which is Best in Class. The Carlton Razor Stump Cutting Razor System was designed by JP Carlton who have over 70 years of stump grinding experience. The Razor Cutting head has a higher cutting efficiency,longer tool life and reduced maintenance. The Razor Cutting System is a very effective and efficient stump removal tool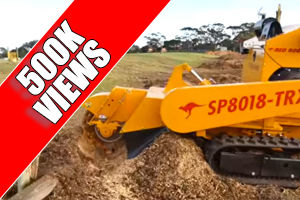 Red ROO SP8018-TRX IN ACTION
This video demonstrates the Red Roo SP8018-TRX being used for commercial stump grinding applications in a number of different situations. From the video the power and cutting speed of the SP8018-TRX can be seen.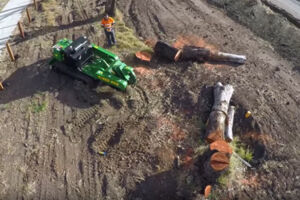 Remote Controlled Stump Grinder
Check out this video on the SP8018-TRX,100HP Remote Controlled Stump Grinder. This machine completed four large Australian Red Gum Stumps in less than one hour. The remote controlled SP8018-TRX dedicated track stump grinder is ideally suited for large stumps. This machines has a 80" (2M) cutting arc and a 18" (460mm) cutting depth which equips the machine for those gruelling tasks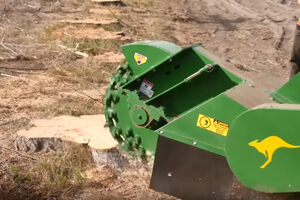 Hire a Stump Grinder
The Red Roo SP8018-TRX stump grinder is an ideal product for the Hire and Rental industry and it is an ideal product to hire from Red Roo. This video demonstrates the sheer performance capablity of the SP8018-TRX as it relentlessly grinds a number of large stumps on a commercial project.