The Red Roo HT1624TK trencher is powered by a 16hp (12kw) V Twin OHV Briggs and Stratton Vanguard. The HT1624TK has a forward ground speed of 55 metres per minute and a reverse ground speed of 27 metres per minute. The maximum trenching depth is 600mm with a width of 100mm This unit has a solid footprint allowing access to very difficult environmental conditions.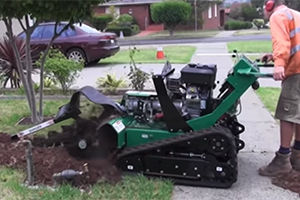 Heavy Duty Track Trencher
The Red Roo HT1624 Track Trencher is low maintenance and reliable in the most difficult conditions. The ergonomic steering, tracks, and size of this trencher make the operators job effective and efficient. Undercarriage track drive components are well protected yet easily accessed.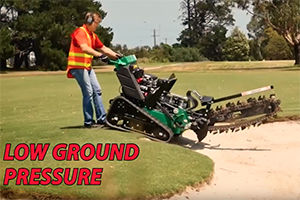 Ideal for irrigation
The Red Roo HT1624 Track Trencher is Ideal for irrigation contractors and electrical contractors. This unit has a proven track record in the demanding Hire and Rental Industry. The controls of the HT1624TK are easy to operate and as demonstrated in this video it is of great benefit on those long trenching jobs and you obtain precise cutting and depth control.