The all hydraulic SG30TRX is powered by a 31hp (23kw) Briggs and Stratton V Twin Vanguard engine. This all terrain dedicated track stumpgrinder allows a joystick controlled left to right motion of the grinding disc. The SG30TRX will cut an arc that is 2.5meters (99") 134 Degrees. The 770kg (1750lb) frame keeps the unit stable and in proper contact with the stump. The track system features a true skid-steer type drive and providing excellent maneuverability, allowing the operator to easily transport the unit to and from the work site. Intuitive controls provide one control for each track and a joy stick to control cutting head slew function. There are no belts to the cutting wheel. The hydraulic direct drive eliminates the need for belts. A brake on the cutting wheel makes for safer operation. The unit will easily fit through 890mm (35") gates. Open and accessible design allows for easy service and maintenance. A low center of gravity helps the stability of the unit on uneven terrain.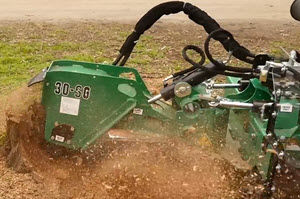 SG30TRX DEMONSTRATION
The Red Roo SG30TRX Stump Grinder delivers results. To date this video has over 98,000 views on YouTube. The primary objective of this video is to demonstrate the benefits and features of this machine in action. If maintained properly, and used in accordance to this video the SG30TRX will potenially save or earn the end user or contractor a significant amount of time and money.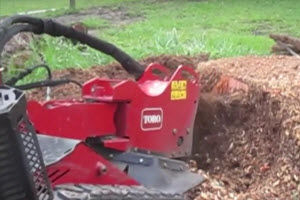 Competitive Demonstration
We encourage you to compare the performance of the Stump Grinder demonstrated in this video to the performance of the Red Roo SG30TRX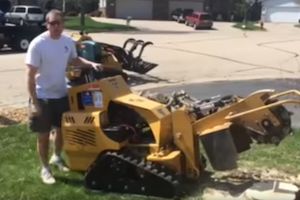 Rental Company Approach
This video illustrates the approach taken by one particular rental company in endeavouring to promote and demonstrate the use of their product. Watch the video and read the comments and then form your own view. Red Roo is not advocating this approach